Ski and Snowboard Repairs and Tuning in Jindabyne and Erina
Repairs and tuning of your Ski's and Snowboard will keep you carving through the ice and gliding along the powder, faster speeds and sharper turns.
Tuning your Ski's/Snowboard involves three steps:
1. Base repair
2. Edge work
3. Waxing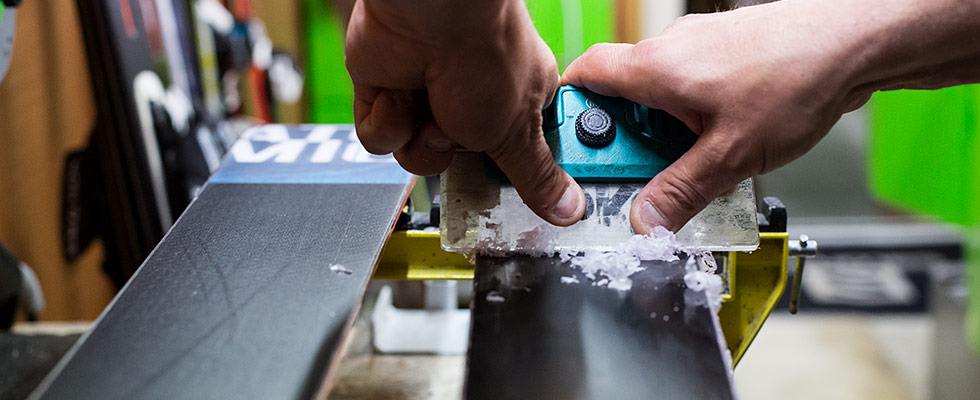 How do you know if you need to tune your Ski's/Snowboard? First, look at the base of your Ski's or Snowboard, if there are holes or gouges then these will need to be repaired by our qualified techs…
Then check your  edges, run your finger along it but be careful , check for burs and rust, you need sharp edges to really cut into the hard snow and ice that is usual in Aussie conditions , especially early in the morning, our machines can get your edges razor sharp, just like when you bought your equipment.
Then Wax and Wax some more., waxing gives you that glide across the snow…you can never have too much wax and it's good to repeat waxing in line with how many days you are riding…
Our qualified Ski and Snowboards techs offer these services
Hand iron hot wax corresponding to current snow & weather conditions. $20
A Detailed Edge Finish & Hand Iron Hot Wax $60
Full service(stone finish) $70
Base filling P-Tex(only with Edge and Wax or stone finish) plus $20
Binding Mount $100
Please phone through to our stores for more information or just drop your gear off with us.
JINDABYNE STORE
(02) 6457 1455
CENTRAL COAST STORE
(02) 4365 2355